What's New, Worth Checking Out & Sales!
This stainless steel wind spinner features a faceted crystal at its heart and a swiveling S hook. The way it moves in the wind is stunning and eye-catching! Available at our nursery for $39.95.
Colorful and creative, these wind chimes will look stunning wherever you hang them. Environmentally friendly, these wine bottles were re purposed to create a gentle tinkling sound and sparkle in the sunlight.
Cool down in style with this unique, vintage-looking pickup truck cooler! We have it available in blue also.
Are you interested in a water feature, but short on space? We have many options for concrete water features, varying in shapes, sizes, and styles. Falling Water Gardens owner and award-winning landscape designer, Rick Perry, teaches free classes every Sunday (usually rotating between the Pond Building or Pots, Bubblers, & Spitters class). Highly recommended to attend the Pots, Bubblers, & Spitters class if you're considering investing in a water feature or already own one! **ALL CONCRETE FOUNTAINS 15% OFF!!!
Sales
We have an assortment of birdhouses and bird feeders on sale. The ceramic two-hole birdhouse pictured here is on sale for $9.00. We only have a couple left!
Redefine your outdoor space with the gothic patio planters.  These planters can be easily mounted onto walls, railings or even under your windows. We have numerous sizes available.
Several beautiful bird cages are available and are marked at 30% off! They come in all shapes, sizes and colors.
8″ Metal Wall Flower Decor

Cute metal flower decor is available for sale at 3 for $30!
Varying in size. Buy 1, get 2 FREE! Bamboo poles are great for building a fence, tiki hut, plant trellis, artwork for a garden gate, DIY wind chimes, and so much more! Bamboo is naturally sturdy and pest resistant. Use bamboo in both indoor and outdoor settings.
Assorted Owls

These darling owls are 50% off! Take advantage of the sale while we still have them available.
Enjoy a cool beverage at the beach or in the garden with these awesome beverage stakes. This steel beverage holder holds standard-size beverage containers, cans, and bottles. The fun, spiral design adds a twist to your next beach party, BBQ, or picnic. Buy 1 for $11.95, get 1 FREE!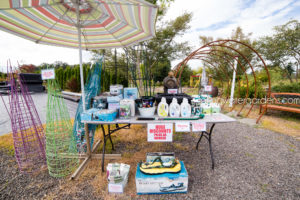 Assorted Deals

We are also still honoring the sales we had at the Falling Water Gardens Anniversary party: buy 3 plants, get 1 FREE (mix & match), buy 3 fish, get 1 FREE, and much more! As you can see, we have many items on sale. We need to make space for the upcoming season! Take advantage of our clearance sale items!
Please note that we've updated our newsletter format. You may navigate through this newsletter by clicking on the page numbers below.