What's New & Worth Checking Out!
Limited Time – ALL Concrete Fountains 15% Off!
What a deal! Come check out our concrete fountain selection and take one home while we are offering this amazing 15% off discount!
We have several different styles of wood benches available. Superb quality wood!
Hang your summer flowers in this all-weather parachute hanging planter for a beautiful look, year after year. Water and weather won't bother this basket. A beautiful way to showcase your plants! Visit the nursery to see other available hanging planters!
Varying in shapes and sizes, our pots are one-of-a-kind! These pots in particular are inspired by the mix of cultures on the Iberian peninsula. This new line wears bold, geometric patterns and rich, earthy colors.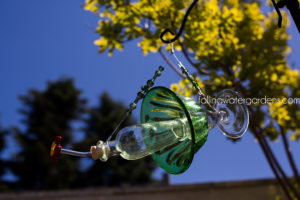 Local and Handmade Glass Hummingbird Feeder

Watch mesmerizing hummingbirds as they dart and hover around this gorgeous locally handmade feeder. Hummers can spot the red feeding ports from afar! We have many other beautiful styles available.
Do you have a country or farmhouse theme? Whether you use it in your home or in your garden, our assortment of rustic decor makes a fabulous decorative for your living space.
Keep your drinks handy in the yard with this stylish flamingo cooler so the party never slows down! Other unique coolers available at Falling Water Gardens. 
Please note that we've updated our newsletter format. You may navigate through this newsletter by clicking on the page numbers below.