What's New, Worth Checking Out, & Sales!
New
This beautiful fairy planter is a great way to give your blooming flowers extra flair and charm in the garden. These were very popular over Mother's Day weekend; only a few left! $36.95 for standing fairy planter.
We have an assortment of these classy concrete benches and birdbaths available. They look great on our property, and we know they'd look even better in YOUR garden. 😉 Concrete benches starting at $59.95.
Watch your love bloom in these cute heart-shaped baskets!
Kinetic Infinity / Star-flower Stake

Create a mesmerizing effect in any garden with this gorgeous kinetic pin-wheel stake. $170.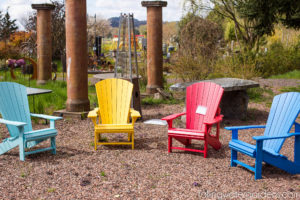 Recycled Plastic Adirondack Chairs

We love the splash of color these awesome chairs add to the yard. Each chair uses 579 recycled milk jugs. 7/8" thick material with solid color. The wood grain finish is heavy, durable, and impervious to water. Guaranteed never to rot, crack, or splinter! $365.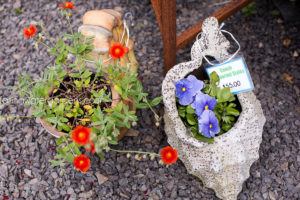 Assorted Conch Shell Planters

How awesome are these conch shell planters? We have a few different styles to choose from. Starting at $55.
Worth Checking Out

Assorted Birdbaths

Love the way this birdbath plate glimmers in the sunlight. We have several to choose from, and this particular one is always a quick-seller! Assorted birdbath plates start at $41.00.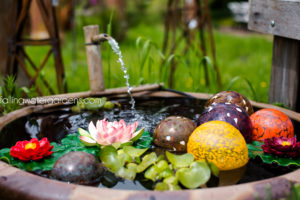 Decorative Floating Water Lilies and Blown Glass Balls

These durable, plastic water lilies feature a realistic lily pad and flower that will enhance the beauty of your garden. These glass blown balls are also another great option to add a pop of color to your water feature.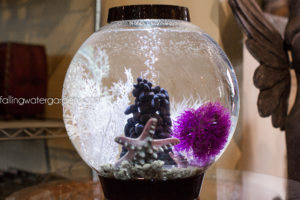 BiOrb Halo LED Moonlight Aquarium

If you're looking for a simple starter aquarium then the biOrb Aquarium is for you. You can be up and running in no time, everything you need is in one box. It really is a case of just adding water and fish.
Gifts Ideas For Dad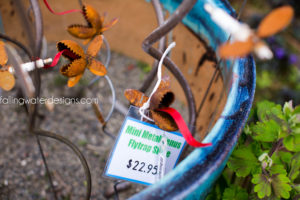 Metal Venus Flytrap Stakes

We have an assortment of these metal venus flytrap decorations for your garden! Starting at $22.95.
Garden Tool Wall Hooks

A clever way to hang your garden tools. Set of three for $79.95!
Seahawks Decor

We've got an assortment of Seahawks decor that Dad will love! Glass coasters, glass mobiles, window decor, hanging pin-wheels, and more.
One-Of-A-Kind Birdhouse

There are many unique and fun birdhouses to choose from in our gift shop. This camper birdhouse is priced at $53.97.
Please note that we've updated our newsletter format. You may navigate through this newsletter by clicking on the page numbers below.