What's New, Worth Checking Out & Sales!

Beneficial Insects
Don't forget to get your beneficial insects! Great eco friendly way to get rid of bad bugs and to help pollinate your veggie gardens and fruits.
Ladybugs
The familiar round, orange spotted ladybug is just one of more than 400 species of lady beetles found in North America. Most ladybug adults and larvae feed on aphids and other soft-bodied insects. Adults are attracted to flower nectar and pollen, which they must eat before they can reproduce.
Green Lacewings
Pale green or brown lacewing adults have distinctive large, veined wings and feed mainly on flower nectar. Lacewing larvae, however, are voracious predators that feed on aphids, thrips, scales, moth eggs, small caterpillars and mites.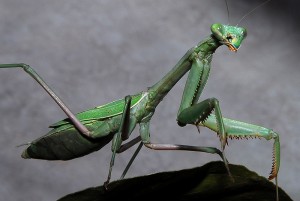 Praying Mantis
Praying Mantis, preys on most insects, mites and insect eggs. Use 10-100 egg cases per year per acre in early Spring. Hang an egg case in bushes or attach to anything 2′ or more above the ground. Egg cases may be stored in the refrigerator just above freezing with slight dampness.
New
How about this fun guy! Made of recycled metal and different parts like a spark plug.
We just got these gorgeous jeweled insects in stock! Ladybugs, Ants, Butterflies, and Dragonflies. Hang it on your wall, place it on a table or even hang it outside.
These lovely rock hearts just arrived at the nursery. They would look great in a garden or landscaped yard.
Looking to add some art into your yard or gardens? Check out these moon sculptures! Any one of them or both would make a lovely addition.
Metal Garden Stakes – Grow, Hope, Love

Rustic metal garden stakes to add some detail to your garden. We've got Grow, Hope and Love available.
Worth Checking Out

This is a gorgeous birdbath that would look great in your garden or even hung up on the wall of your home!
These little metal colorful birds are so cute! Perfect for adding to your garden decor outside or even inside. They come in different shapes and colors.
Turquoise Blue Vase with Green Flower

This is a beautiful small vase that would add some gorgeous color to your home. It's maybe 6″ tall so perfect if you've got a smaller space.
Sales
Most of the frogs in our gift shop are on sale at 15% off! We've got solar powered ones, cast iron, rustic and more. Come on in and see them for yourself.
For the month of May we also have our solar animals on sale at 15% off. This includes the black bears with the flower and beehive, hedgehog, racoon and frog.
These colorful birds are fun! Plus they're duel purpose. Water your plants and have then place it along them for decoration. 15% off
Now this one is super fun! It's a very springy owl that doesn't take much to bounce around. Great for the kids or grand kids. 15% off
Another fun and cute metal decoration to add to your garden or yard.  These guys are also 15% off.
Please note that we've updated our newsletter format. You may navigate through this newsletter by clicking on the page numbers below.