What's New, Worth Checking Out & Sales!

Beneficial Insects
Are you having an aphid problem? Then check out these Beneficial Insects that can help you take care of that problem!
Ladybugs
The familiar round, orange spotted ladybug is just one of more than 400 species of lady beetles found in North America. Most ladybug adults and larvae feed on aphids and other soft-bodied insects. Adults are attracted to flower nectar and pollen, which they must eat before they can reproduce.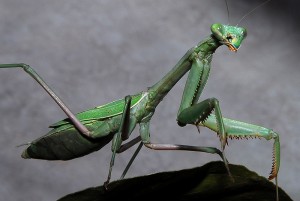 Praying Mantis
Praying Mantis, preys on most insects, mites and insect eggs. Use 10-100 egg cases per year per acre in early Spring. Hang an egg case in bushes or attach to anything 2′ or more above the ground. Egg cases may be stored in the refrigerator just above freezing with slight dampness.
Did you know that Mason Bees are actually better at pollinating then honey bees? One Mason bee can pollinate up to 12lbs of cherries which would take about 60 honey bees to pollinate.  They are also very cost effective and it doesn't take much at all to start or maintain. Mason bees are also very gentle and very rarely sting. If you are stung it has been said that it feels like a mosquito bite. This means you won't need to buy any special clothing!
These bees are really a must have for any veggie garden or orchard.
New
That's right! Since the weather is getting warmer we've got new Koi and Gold Fish coming in next week. So be sure to come on in.
These colorful glass swirls just arrived in our shop! Beautiful and perfect for adding to your garden or yard.
Spring colored tabletop fountain with birds taking a bath. Perfect for your desk or small space.
Ok so these technically aren't new but they sold out really fast and it's not hard to see why. These boulder owls are so adorable! They range in size from 2″ to 12″ tall and come in all shapes and colors. The small ones are even perfect enough to bring inside for a paper weight or decor. Take a flock home!
Another new product in our shop. This little child fairy is so lovely! Jar lights up and is solar powered. Would would great in a yard or garden.
You know you need this flamingo sun catcher in your life! Gorgeous color! Hang it outside or inside in a sunny spot.
Worth Checking Out
These Molten glass sculptures are truly unique and each one is one of kind. Several sizes to choose from. Each is shaped and molded to fit onto it's base. The bigger sizes are great for beta fish!
How about this gorgeous birdbath! Lovely enough to even be hung on the wall. Great as a gift for those who love Koi.
Now these are super cool! Not only do they add some color to your yard they had some fun movement with the wheels that spin. Not looking for a bus? We've got several others available as well.
Looking to add some elegance to your yard these Granite Lanterns are the way to go. Very long lasting to enjoy year after year.
Sales
April showers bring May flowers! For the month of April all AW Pottery Rain Chains are on sale at 15% off. These guys bring some art and elegance to your home so instead of a plain downspout. Several to choose from so come on in and pick yours up today.
Please note that we've updated our newsletter format. You may navigate through this newsletter by clicking on the page numbers below.